Venice Information
Why Venice?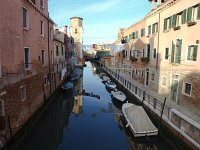 Venetian canal
Choosing a location for a wedding where many guests have to travel from other countries is not easy. We wanted to select a place that is not only very special for us, but also a location where our guests could enjoy themselves on their own holiday or weekend break, rather than just having to travel to attend our wedding.
Those who have already experienced the magic of Venice know what to expect, but for those who have never been, we would really like to encourage you take some time off and stay a little longer. Venice itself has many amazing sights, and for those who can allocate even more time, the surrounding areas also offer some highlights.
We have attempted to include as much information on this page as is practical. For further information about Venice we encourage you to consult a guide book or one of the many web pages about the city.
Accommodation
Hotel Saturnia
There are many choices for accommodation in Venice. Due to the popular time of year, guests are advised to arrange accommodation well in advance.
We will be negotiating a block booking with the Hotel Saturnia. This hotel is our favourite hotel in Venice. The facilities are excellent (four star), the staff friendly and the prices more than reasonable, especially considering the location - just five minutes' walk from Saint Mark's Square. Public transport and most of the important locations for the wedding festivities will be within very easy reach of the Hotel Saturnia. Exact costs are unknown until we can negotiate a block booking, but it will be somewhere in the order of EUR 200 per double room per night.
We would like to encourage all guests to make use of the Hotel Saturnia, but we also appreciate that it may not suit the requirements of everyone. If you'd like to check alternative hotels we encourage you to use web sites such as Bookings.com or Hotels.com. Bear in mind that a hotel far away from Saint Mark's Square or outside of Venice itself will require additional transit time and may not offer the same level of comfort or convenience. If you have any questions, we would be happy to give you further advice.
Whatever you decide to do, letting us know your accommodation in advance helps us greatly with planning any required bookings or reservations. Thank you for understanding.
Getting to Venice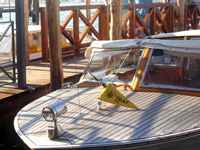 Easiest from airport - water taxi
Venice is a forty-minute fight from Zurich, or six to seven hours by car. For those travelling from within Europe, Venice should be reachable via direct flight from most major airports. For those coming from outside Europe you can also fly into Milan and take an inexpensive direct train connection to Venice in just a few hours.
For those arriving by car, please be aware that driving a car in Venice is impossible, but a car park is located at the entrance to Venice next to the railway station. Parking must be reserved in advance and costs around EUR 25 per day.
Once at the main railway station (after arriving either by car or rail) public transport in the form of ferries can transport you to Saint Mark's Square.
For those arriving by air there are a number of options. The normal ferry takes about one hour and forty minutes and costs EUR 6 per person. A faster ferry takes just one hour and costs EUR12 per person. The best, but unfortunately most expensive option, is to take the water taxi. A water taxi costs EUR 90 but is the most convenient (especially if you have luggage) - reaching the private dock of the Hotel Saturnia in just twenty minutes. You can also enjoy spectacular views of Venice on the way.
Communicating your travel plans to us will help us to co-ordinate things to help you - for example people arriving on the same flights can take a water taxi together and share the costs.
Travelling to other parts of Italy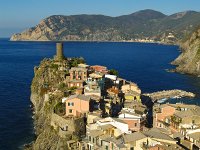 Cinque Terre - breathtaking views
Why not explore some of the highlights of northern Italy while you are there? Travel by train is the easiest way to see many of these places. If you have any questions or would like further tips, we'd be happy to help. You can also find train information here.
Verona
Just ninety minutes from Venice by train, Verona offers great shopping and sightseeing possibilities. If you are there in the evening consider seeing an opera performance in the famous Colosseum. You can see some personal picture of Verona here.
Florence
Always popular with tourists, the city of Florence is three hours' journey by train. While not a highlight as far as I'm concerned, Florence is a very popular destination with many people.
Pisa
Famous for the leaning tower, Pisa is just over one hour by train from Florence. While some might say it's just about the tower, there's plenty to do. Some personal photos also here.
Cinque Terre
Our personal favourite part of northern Italy, Cinque Terre is reachable via La Spezia in just under one hour by train from Pisa. You could easily spend several days exploring the "five towns" nestled on the edge of the sea. Personal photos here.