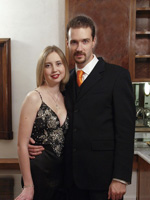 Dear friends,
On September 6, 2008 we will marry in Venice. For those of you who will share our special day with us, we have put together some information to assist you. As more information becomes available, we will update these pages.
Please check back periodically, or at least shortly before the wedding, for updated or important information.
We hope that you will find these pages informative and helpful and trust that if you require any other assistance or information concerning our forthcoming wedding that you will not hesitate to get in touch with either of us.
We look forward to sharing our happy day with all of you.
Lynn & Mark