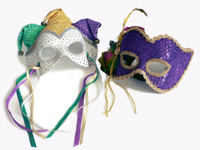 News
---
Web site launched
February 10, 2008 @ 19:52 by Mark
The web site for the wedding is now online. The purpose is to inform all participants about various aspects of the event and the venue (Venice).
---
"Save the date" cards sent
February 09, 2008 @ 14:25 by Lynn
We have sent out the save the date cards to everyone to inform them that September 6, 2008 will be the date for our wedding. Formal invitations will follow at a late date.
---
Proposal
January 1, 2008 @ 23:30 by Mark
During our holiday in Venice I proposed to Lynn on the Rialto Bridge.
---