Practicalities
Gifts
Guests should not feel obligated in any way to give a wedding gift - your presence alone is sufficient. We do appreciate that there will some people who will still want to give gift and will establish a wedding registry to assist people. Details will be posted on this web site at a later date.
Clothing
Not overdressed in Venice
Average minimum and maximum temperatures in Venice at the beginning of September are fifteen and twenty-five degrees respectively. Rain is not so common, but always possible.
Like many Italians, Venetians often like to take great care of their appearance and often dress stylishly, especially in the evenings. What some many consider overdressing would certainly not be inappropriate or out of place in Venice.
The dress code for the wedding ceremony has been left to the discretion of the guests. However, due to the rather elegant nature of the venue where the ceremony will take place, guests may feel more comfortable in either smart casual or slightly more formal attire - for example trousers and a collared shirt or suit (with or without tie) may be appropriate for the gentlemen.
Dress code for the evening activities on the day of the wedding will be black tie. If there are gentlemen who would like to rent formal attire in Venice, please contact us to help you make the necessary arrangements. For the ladies, an evening dress would be appropriate. If in doubt about what to wear, simply dress as you would for attending an opera.
Dietary Requirements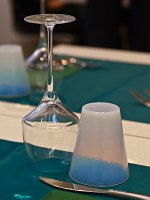 If you have any special dietary requirements please be sure to provide us with us much detail as possible prior to the event. This will allow us to communicate any important details to the caterers.
Other practical information may be found on the Venice page or in the Frequently Asked Questions section.
Children
Children are welcome, however parents should bear in mind that the evening activities, due to their formal nature, may not be appreciated by all children of all ages. Parents wishing to make use of babysitting services in Venice should contact us in advance so that we can assist in coordinating with other guests who may wish to make use of such services.
Those who have never been to Venice and who plan on bringing small children should also be aware that due to the large number of bridges crossing the various canals, prams/strollers can often be a burden.
If in doubt, please don't hesitate to contact us for further assistance.